Fixed Asset Scanners & Barcode Labels
Simplify and automate your fixed asset inventory management process with easy to use, integrated fixed asset barcode scanners and secure asset tags.
Handheld Fixed Asset Barcode Scanner
Powered by the industrial grade 2.7 GHz Qualcomm SnapDragon processor and runs on a flexible Android platform, the PA768 delivers the fastest performance in highly mobile environments.  The PA768 features a comprehensive wireless platform that includes integrated GPS, Bluetooth, WiFi, 4G LTE, and 5G connectivity.
It is able to withstand multiple 5-foot drops to concrete and is IP65 and IP67 sealed against water and dust. Perfect for fixed asset inventories, the PA768 was designed to meet the demands of today's applications.  Compact enough to fit in your shirt pocket, it is the lightest PDA in its class, weighing in at just 9.5 oz. The PA768 may be small in proportion, but is extremely powerful and durable.
Once configured with Sage Fixed Assets – Tracking, barcode scanning is fast, efficient, and accurate.  Small and lightweight, the 1D/2D/DPM/DOT-code laser bar code scanner captures information accurately every time, and even scans most manufacturer's barcode serial numbers!
Unitech PA 768 Series Pocket PC Scanner Kit Includes:
(1)   PA 768 Handheld Scanner with 6 GB RAM, Battery, Charger
(1)  Custom Configuration and testing, Fixed Asset Software Installation.
$1,495.00 (*optional extended warranty available)
We install, configure, and test Sage Fixed Assets. When you get the unit, it will be ready to use immediately, right out of the box!!
SALES TAX AND SHIPPING ARE BILLED ADDITIONAL.  THESE ARE CURRENTLY IN STOCK, AND WOULD REQUIRE APPROXIMATELY 1 WEEK TO CONFIGURE, TEST, AND SHIP (OVERNIGHT AT YOUR OPTION FOR ADDITIONAL COST).
Fixed Asset Barcode Labels/Asset Tags
Selection of the proper type of label tag material, printing method and adhesive is important in maintaining an accurate database of fixed assets.
Typically fixed assets have a useful life of many years and the barcode label applied to the assets should remain firmly affixed and easy to read by scanning devices.  The initial physical inventory tagging and tracking process can require a lot of time and effort.  This time is wasted and the database information is compromised if inventory has to be retagged and identified again due to labels that fall off or are no longer easily recognized when scanned.
Through extensive field-testing, we recommend polyester and aluminum barcode labels designed specifically for prolonged existence in office and manufacturing, restaurant, and laboratory environments.
POLYESTER  LABELS – Office and Non-Volatile Environment
| | | | | |
| --- | --- | --- | --- | --- |
| QUANTITY | 1,000 | 3,000 | 5,000 | 10,000 |
| Black & White | $0.71 | $0.40 | $0.33 | $0.28 |
| 2 Color | $1.05 | $0.53 | $0.43 | $0.33 |
Price $ per label
These barcode labels are made from a 3-mil polyester material that resists moisture and accepts printed inks well.  They are printed with crisp, clean barcode edges that scan easily.  They also have a clear laminate that protects the barcode printing for years of service.  They have a permanent adhesive that cures after application for a tight bond to smooth surfaces.
Size 0.75 x 2.00".  Other sizes and colors available.  $75 setup fee per order.
We also have an economy 2-mil polyester label.  Please call for pricing.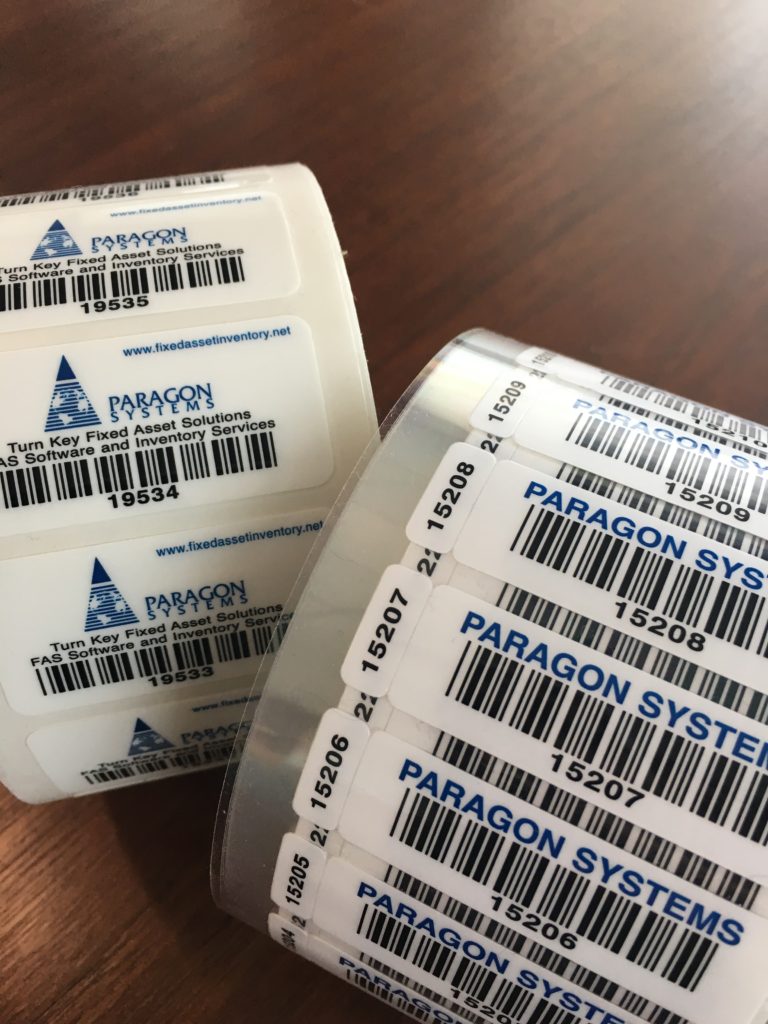 ALUMINUM  LABELS – Manufacturing, Restaurant, and Laboratory
| | | | | |
| --- | --- | --- | --- | --- |
| QUANTITY | 1,000 | 3,000 | 5,000 | 10,000 |
| Price $ per label | $0.94 | $0.65 | $0.63 | $0.59 |
These barcode labels are die-cut from a solid 3-mil sheet of aluminum that holds up well to dirt, grime and oils typically found in these volatile environments.  The barcode and text images are actually black anodized into the surface of the aluminum.  This process resists scratching and withstands repeated cleaning.  They have a permanent adhesive that cures after application and produces a tight bond to smooth or irregular metal, plastic and painted surfaces.
Size 0.75 x 2.00".  Other sizes and colors available.  $75 setup fee per order.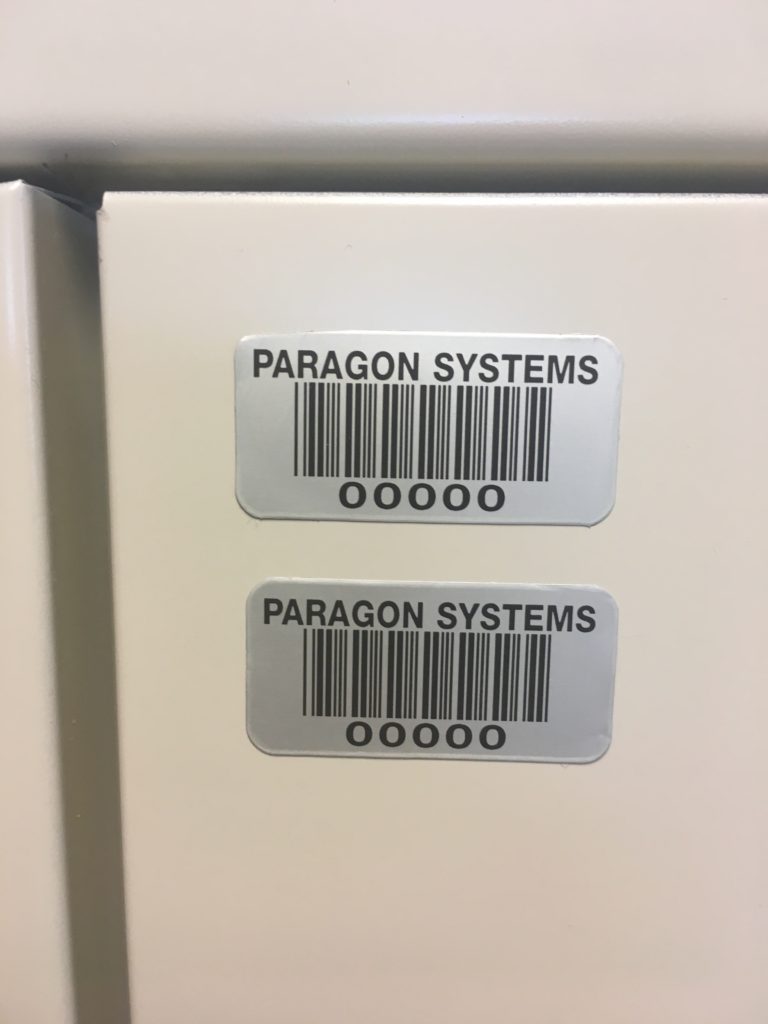 PARAGON SYSTEMS STOCK LABELS
Both styles of barcode labels are available in small quantities (increments of 250 pcs.) in our generic Paragon Systems version printed one color and pre-numbered sequentially.  Size 0.75 x 2.00"
Polyester Labels:   $0.50 ea, minimum of 500
Aluminum Labels:  $1.25 ea, minimum of 500
NOTE:  All pricing is for specifications as listed above and subject to confirmation upon receipt of order.  Custom sizes, scanned company logos, and printing available upon request. All pricing is subject to change without notice.