Sage Fixed Assets Cloud Hosting
Sage Fixed Assets Cloud Hosting: Secure, Remote Access for Multiple Users
Sage Fixed Assets cloud hosting with Paragon offers many benefits to businesses of different sizes – from mid-sized companies to global enterprises. It's a cost-effective, secure solution for organizations with mission-critical applications that need 100% network uptime, support responsiveness, technical expertise and a secure, high-end infrastructure. It allows your IT team to focus their expertise on building your business instead of maintaining servers and managing software updates.
Simplify Your Sage Fixed Assets Software Management
Tired of competing with other departments for IT resources? With Paragon's Sage Fixed Assets cloud hosting, we do all the work so you and your IT team don't have to. Paragon will:
Provide you with a dedicated server environment with your own access
Host your Sage Fixed Assets software solution
Manage the initial installation of Sage Fixed Assets
Inherently map all printer and network drives upon first login
Manage all updates as released, and schedule updates with your user manager
Promise 24/7 Connectivity Support
Ensure that you own all of your data
Handle the server patch management and ensure your system is always up to date
Support all web browsers
Include and manage the Microsoft licenses via our service provider license
Provide agreement (SPLA) with Microsoft, including SQL for SQL-based applications
Manage user access changes and password resets
Handle all troubleshooting with users
What You Can Expect with Paragon's Sage Fixed Assets Cloud Hosting
Robust security technology with

24/7 data intrusion monitoring and encrypted logins

256-bit encryption with access to the hosting environment through dual layer security
Optional TruGrid Multi-Factor Security Technology available
Backups held for 15 days, with off-site backups through our data center, or through other off-site backup providers with whom we contract
Constant monitoring of servers, disk space and firewalls for intrusion attempts
Virus protection on all servers and utilize proxy server technology for additional security
PCI Compliant & SSL environment for all clients. SSAE 16 Type II Certified
Frequent review of disaster recovery plans to meet and exceed industry and customer expectations
Paragon's Cloud Hosting is THE extension of your IT department providing round-the-clock management of your hosted environment.
Press the Easy Button with Paragon's 5-Step Process
You can get up and running quickly – often within a week. We'll transfer your existing Sage Fixed Assets database to your new cloud-based Sage fixed Assets application. It's a simple 5-step process:
We set up your hosted cloud server and give existing Sage Fixed Assets users secure access
Install Sage Fixed Assets and register your Sage Customer Number
Using a backup from your local Sage Fixed Assets System, we restore a copy of your current SFA database to the cloud server
Confirm everything ties out between both systems with a reconciliation report
Users begin accessing your new system remotely!
Contact us today to get started!
Optional Multi-Factor Security Technology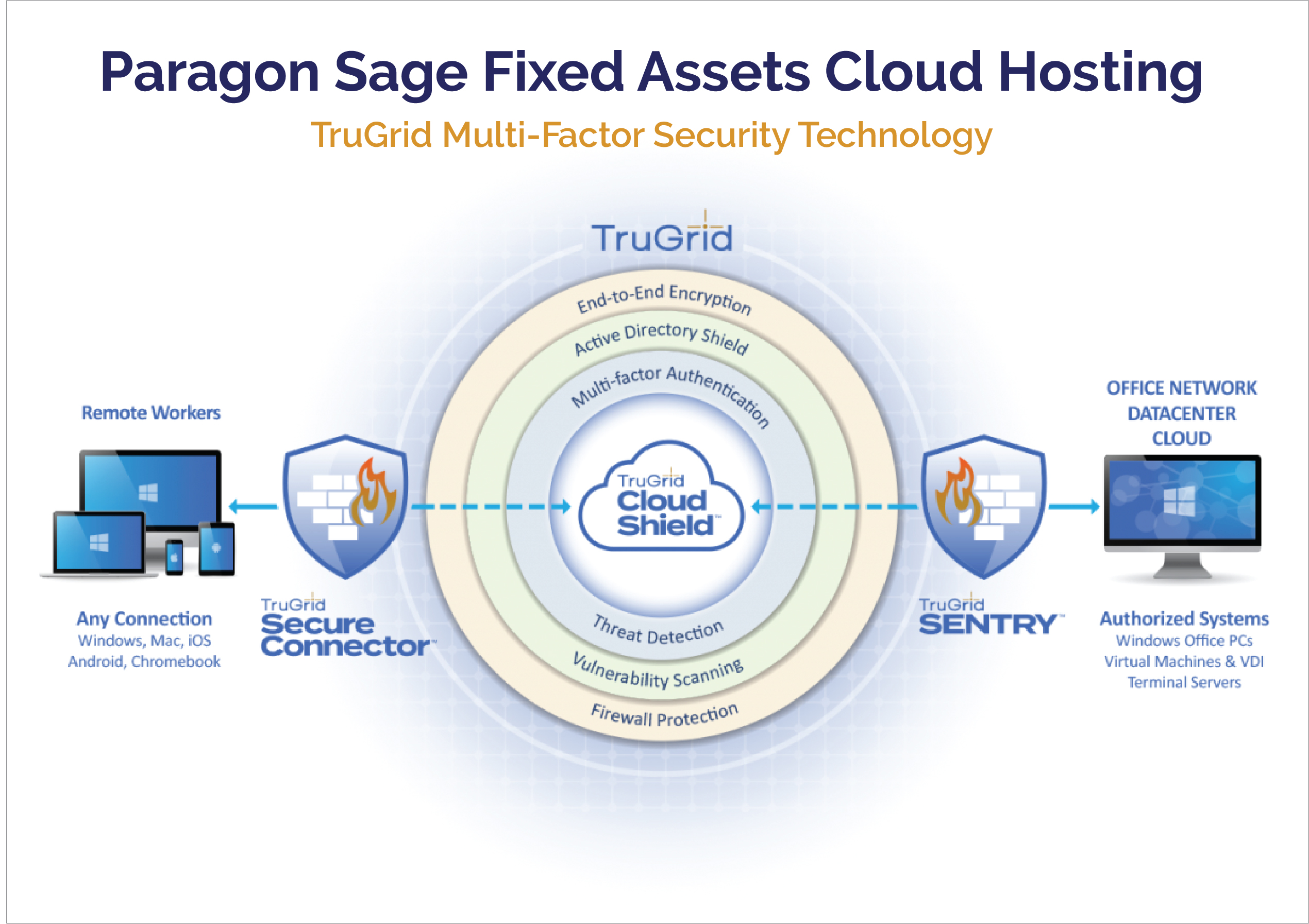 Cloud Hosting Client Testimonial:
"Paragon knows exactly what they're doing when it comes to fixed assets. Hosting with Paragon is easier and more cost‐effective than running the software internally.  We don't have to worry about managing software upgrades or database backups. Those are all done automatically and handled by Paragon."  Read more…
– Shannon Conley, Senior Tax Manager, Volkswagen Group of America