Sage Fixed Assets – Tracking
Gain Complete Control Over Your Entire Fixed Asset Inventory
Sage Fixed Assets – Tracking gives you automated asset inventory tracking and reconciliation capabilities. Using state-of-the-art bar code technology, including Microsoft® Windows® Mobile and Android® devices, it creates and tracks multiple physical inventories of assets quickly and efficiently – enabling you to achieve tighter control of your fixed assets.
Integrates seamlessly with Sage Fixed Assets – Depreciation, allowing physical inventory data to be easily reconciled with existing asset data.
Conduct multiple inventories concurrently at various sites and reconcile data at one central location.
Supports both types of inventories – Baseline to add new assets, and Dynamic to verify any data on existing assets.
Track assets at remote locations, where inventories can be conducted by exchanging data via email attachments.
"Import/Export Helper" allows you to import data from, or export data to, the most popular spreadsheets and database applications.
Windows CE and Android device make it easy to perform inventories with less expensive hand-held bar code readers containing more memory.
On-screen "Virtual Reader" lets you perform a test inventory – and even add assets – before you invest in hardware.
Simplify Your Inventory Process with Sage Fixed Assets – Tracking Inventory Wizard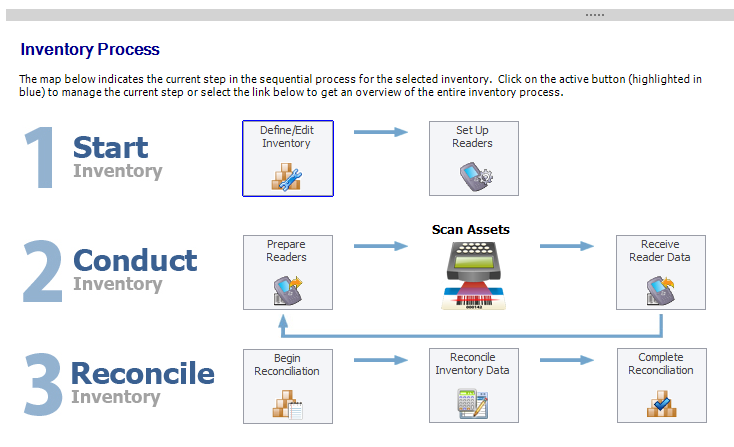 Get 51 Fully Customizable Fields to Control Data Entry, Notes, and Asset Images
"Secondary Tag" field allows you to summarize assets by room location while conducting inventories.
"Groups," "Templates," "SmartLists" and "Search-and-Replace" features provide powerful asset management tools and streamlines inventory methodologies.
"Detail View" provides complete information including property type, class, acquisition date, supplier location, GL asset account, accumulated and expense account numbers, custodian, and more.
Customize "Group View" with drag-and-drop "freezeable" identifier columns. Display or hide columns to view precisely the information you want in the order you want to see it, all while saving your custom settings automatically.
Images and descriptions can be added for detailed information about each asset record.
"Check-In/Check-Out" feature with a "Check-Out History" constantly monitors assets on the move.
Also available for Microsoft® SQL Server platform.
Want to learn more about Sage Fixed Assets – Tracking?
Watch the brief video below: