Sage Fixed Assets Implementation
Sage Fixed Assets Setup, Data Conversion, Integration and Automation
Is your fixed asset data in spreadsheets, old enterprise resource planning (ERP) systems, or managed by an outside CPA or Tax accountant? Are you struggling to integrate data with Sage Fixed Assets – or pull data from it for other systems?
Let Paragon's fixed asset experts handle the heavy lifting by bringing your fixed data together from a variety of sources. Our Sage Fixed Assets data conversion and implementation services provide interim reports and help get it all reconciled and ready to go. We can then convert and import your data into Sage Fixed Assets–Depreciation, for a comprehensive solution.
Paragon is a leading Sage Fixed Assets certified business partner. We will work with your team to plan the data conversion and integration, and migrate any existing fixed asset records into the SFA Depreciation application. With our Sage Fixed Assets implementation services, you can take advantage of the robust tax depreciation and reporting capabilities of Sage Fixed Assets.
To further jump-start your SFA solution, Paragon's expert training can quickly help you and your team get the most out of your software investment. With over 30 years of experience as a Sage Fixed Assets Authorized Business Partner and Certified Consultant, you're learning from the fixed asset experts.
Sage Fixed Assets Integration and Automation
Are you already using Sage Fixed Assets, but spending countless hours each month generating routine fixed asset reports or data outputs for:
Financial intelligence for your management team.
Updating your ERP system, G/L system, equipment tracking, maintenance system, etc.
Paragon can create custom solutions that will significantly reduce your monthly fixed asset data management time and minimize potential errors due to manual processing. Here are a few examples of solutions we have created for other Sage Fixed Assets clients that are quickly and easily run with just a couple key strokes. What used to take 2-10 hours each month, now takes under a minute in most cases.
Custom Sage Fixed Assets reports to query and summarize data exactly as you need, instead of exporting to Excel for further lengthy editing
Scripts and routines (aka middleware) that query your company asset database and generate the desired output fields and format, such as a CSV or XLS file suitable for uploading journal entries to other accounting systems
Data Query routines in Excel to pull data from the back end of Sage Fixed Assets to update asset details in other internal systems
Here is a sampling of just some of our data conversion and integration services. Don't see here what you need? Contact us and let's talk about your particular situation and needs.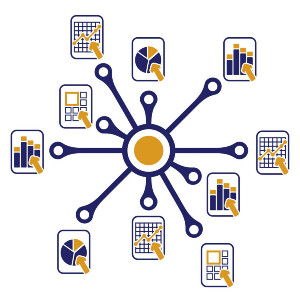 Data conversions from variety of sources into Sage Fixed Assets

Spreadsheets/sub-ledger detail reports
Other fixed asset systems or general ledger modules
Integrate book and tax ledgers from multiple sources
Cost accounting and purchase price allocation — step up/down
Acquisition fixed asset integration services from the company system

Processing/Integration with ERP systems like Acumatica Cloud ERP, Quickbooks, Sage 50, Sage 100, Sage 300, Sage 500, Sage Intacct, Sage X3, Oracle, SAP, NetSuite, People Soft, JDE, Great Plaines, GEAC, MS Dynamics, Acumatica, Epicor, MediTek, Lawson, Solomon, MIP — and more.
WinShuttle certified business partner and other database utilities
Data mining forensics – optimize fixed assets for tax and audit
Asset lifecycle – property accounting procedures and process improvement
Audit support and IRS experience – fixed asset sub-ledger analysis
Implementation, Data Integration and Automation Success Stories
Paragon has helped many clients with their Sage Fixed Assets setup, implementation and data conversion, as well as with custom data integration and automation. Don't want to take our word for it? Read our Client Success Stories and learn how Vitro and other clients eliminated time-consuming repetitive tasks, increased productivity, and reduced errors.
Ready to get started? Contact us today.