Explore the Latest Updates and Enhancements in Sage Fixed Assets 2023.1
Sage Fixed Assets 2023.1 is now available! The latest release contains a variety of new time-saving features and enhancements, some of which were suggestions by customers like you.
Group name added to Batch Report naming convention
Check for duplicate general information field Titles
Export individual reports to Excel .xlsx format from the Report Viewer
Identify assets scanned multiple times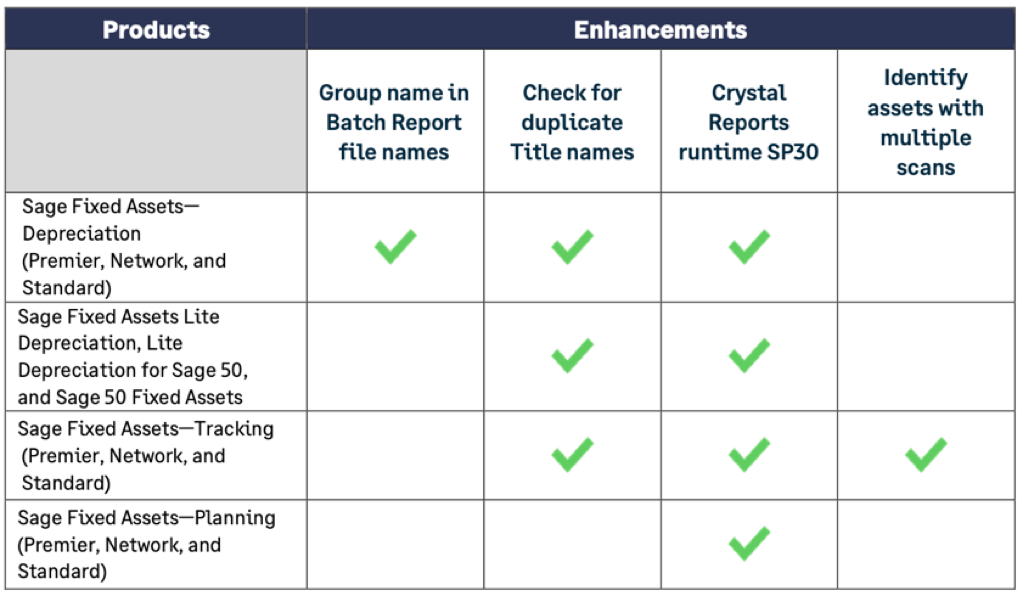 In this release, all Depreciation products have the following important tax compliance updates.
U.S. companies only
IRS Form 4562–Depreciation and Amortization supports the 2022 tax year.
The maximum Section 179 deduction increased by $80,000 to $1,160,000 for tax years beginning in 2023. You can use the Audit Advisor or the Tax Expense report to check how much Section 179 you have claimed across all assets in a tax year.
The maximum Section 179 deduction for Sports Utility Vehicles (SUVs) increased by $1,900 to $28,900 for tax years beginning in 2023.
The depreciation caps for Automobiles (property type A) and Light Trucks and Vans (property type T) increased for vehicles placed in service during 2023.
The Audit Advisor has been updated for the 2023 tax year with two new validations for first-year bonus rules.
The clean vehicle credit available under IRC Sections 30D and 45W per the Inflation Reduction Act of 2022 (IRA) is supported.
Canadian companies only
Tax classes 57-60 added for Carbon Capture, Utilization, and Storage (CCUS) property.
Are you updating from an older release of Sage Fixed Assets?
Get ready to benefit from some great new features and enhancements that are part of the Sage Fixed Assets 2023.0 release from September 2022, including:
the ability to save your favorite views of the Asset List, and
integration with Sage Intacct Accounts Payableto instantly create assets from bills
Important: Before upgrading, consult with Paragon to ensure that this update is compatible with customizations, integrated applications, and other configuration options. 
See the Sage Fixed Assets 2023.1 release notes for more information about this release.
Serving clients since 1985, Paragon International, Inc. provides independent, impartial and accurate cost segregation analyses, and property valuations and appraisals to assist in and support decisions related to taxes, risk management, investment, financing and corporate planning. Our consultants have extensive fixed asset experience – they're fixed asset experts. Because of that we are able to offer a unique combination of irreplaceable human resources and advanced technology. We have specialists experienced in valuing closely-held securities, patents and other intangible assets, business enterprises, buildings, equipment and real estate. In addition, Paragon provides complete inventory and asset management services and solutions, including software customization and training, barcode labels and scanners, and tailored inventory services such as data conversion and integration, asset inventories, asset policies, cost reconciliation, and appraisal services. Contact Paragon International to discover how we can help you.