It's time. You're ready to have your Sage Fixed Assets system in the cloud. You want a secure, managed Sage Fixed Assets cloud hosting solution that allows you to focus on your business. No more on-premises hassles. You need to access your Sage Fixed Assets from anywhere, anytime.
There are many cloud hosting options out there, some that claim to be secure, managed Sage Fixed Assets cloud hosting solutions. Are they? How do you choose the right one?
World-Class Cloud Hosting Technology and Security
With Paragon and our partner, Summit Hosting, you receive a dedicated, private server that gives you:
24/7/365 Cyber Security and Monitoring
Server hardware and maintenance savings
24/7/365 U.S.-based server support
Access to your server from anywhere
Protection from natural disasters
While other cloud hosting providers continue to fall behind by using outdated technology and shared servers, Paragon and Summit Hosting are always doing everything we can to stay one step ahead. From the world-class technology that makes up our data centers, all the way to our 24/7 Security and Support teams, we do more than the competition when it comes to keeping your data safe in the cloud.
How do other hosting providers stack up? Take a look.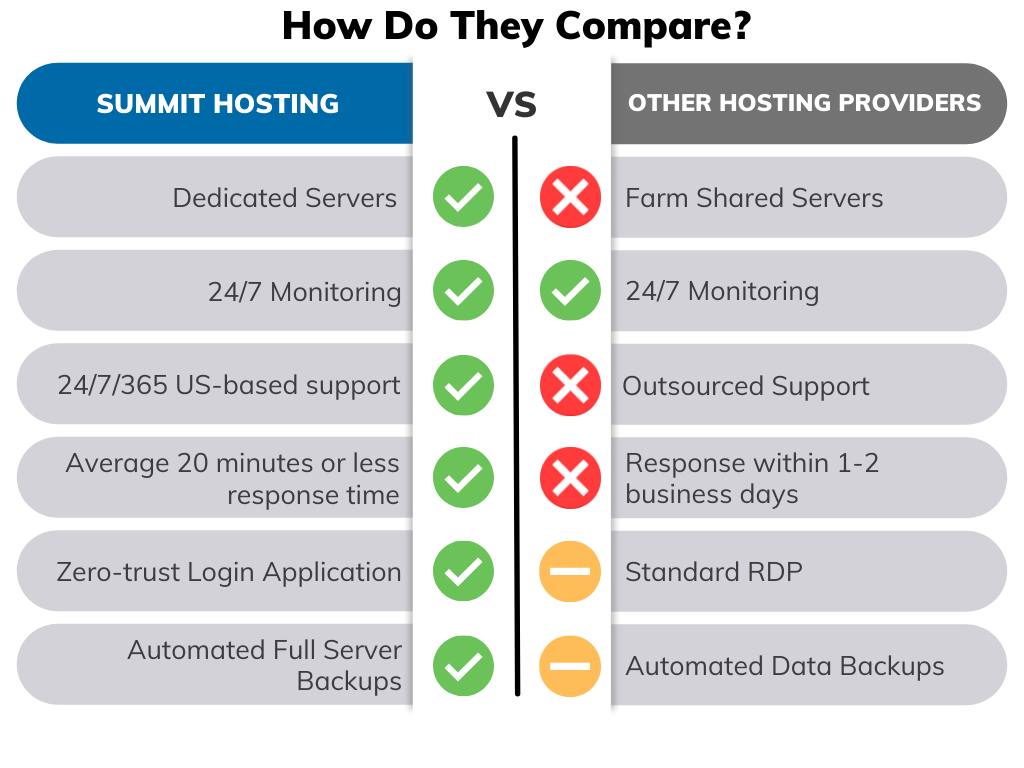 With an always on and always secure Summit Hosting server, you can rest assured that you're getting the most out of your Sage Fixed Assets experience, and the best that the cloud hosting industry has to offer.
Fully Managed Sage Fixed Assets Cloud Hosting
Our team provides the expertise and technical experience you need, and we know what it takes to run your applications and business as efficiently as possible.
With Paragon's managed Sage Fixed Assets cloud hosting, we do all the work so you and your IT team don't have to. From Sage Fixed Assets installation and updates, to user access changes and password resets…and more.
Try Before You Buy…For FREE
Want to see if cloud hosting is right for you? Get the first two months free. Best of all, there's no contract required. (New hosting customers only.)
Give it a try. Get familiar with our remote desktop environment. Upon being built, our team will install your Sage Fixed Assets applications, and over the next 60 days, you will be able to see how they perform in the cloud. We think you'll like what you see.
Contact us to learn more and take advantage of this special, no obligation offer!