The Sage Fixed Assets 2022.0 release contains a variety of new time-saving features and enhancements, some of which were suggestions by customers like you.
You'll notice that some of the new features are available only with the subscription version. As Sage encourages clients to migrate from perpetual plus Business Care to the subscription version, you'll see more subscription-only features in future releases. Contact us to learn more about the benefits of migrating to Sage Fixed Assets subscription.
New Features in Sage Fixed Assets 2022.0
This release includes three new enhancements. The following table shows which enhancements are available on the different Sage Fixed Assets (FAS) products, followed by an overview of each.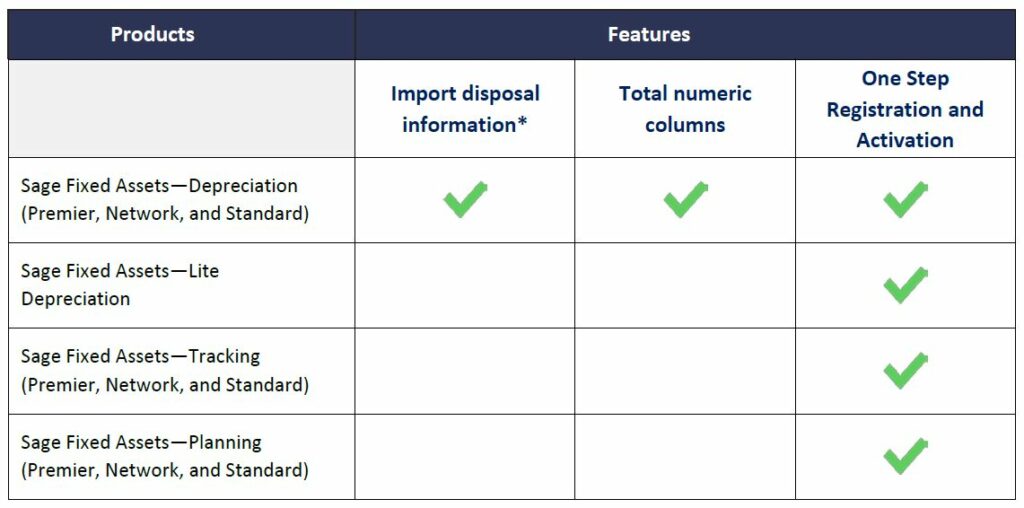 Import asset disposal information (*subscription plans only) – With this new feature, you can import disposal information for multiple assets using a custom import. Now hundreds of items can be fully disposed of in minutes. The Custom Import Helper will guide you through the process. Want help creating an automated custom report or repeated data integration routine that you can run with just a few keystrokes? Contact the experts at Paragon today.
Display totals on numeric columns in the Asset List – With the simple click of a box, you can now view totals of numeric fields for a group of assets on screen in the Asset List.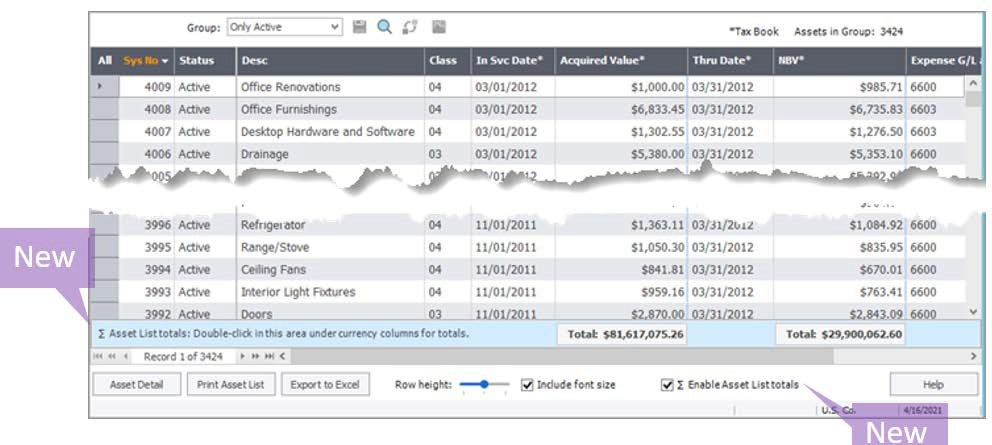 One Step Product Registration and Activation – Registering and activating Sage Fixed Assets products has been simplified. You no longer need to enter 20-digit Activation Codes (perpetual and subscription) and Unlock Codes (subscription only) to register and activate your product. Sage Fixed Assets products can now pull your registration information with only your Customer Number and Serial Number.
New Enhancements in Sage Fixed Assets 2022.0
There are several new enhancements in the Sage Fixed Assets 2022.0 release. The below table gives you a quick snapshot of which enhancements apply to which Sage Fixed Assets products, followed by an overview of each.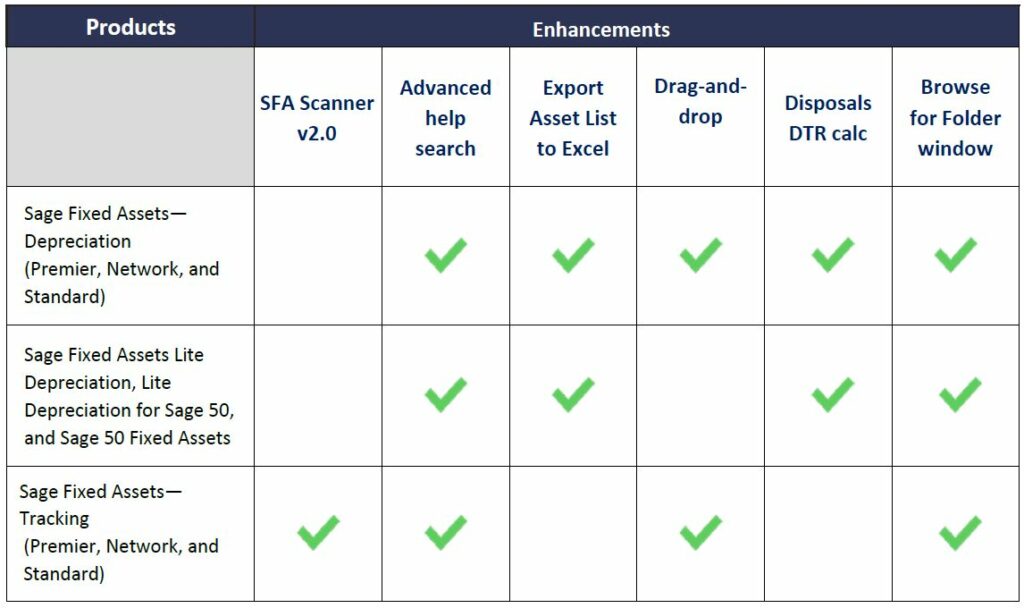 Sage Fixed Assets Scanner v2.0 – The Sage Fixed Assets Scanner Android app has a few updates. They are available as of October 2021 in the Google Play Store and are integrated with Unitech built-in scanner. Updates include: Increased space between the edit, upload and trash icons on the Asset List to select the correct option more accurately; Chat with customer support directly through the app.
Advanced Search Options in Help – Answers are now easier to find in Help with the addition of logical search terms and filters. Results are listed by rank. Simply click on the Title header to sort alphabetically.
Export Asset List to Excel – Lists of assets exported to file using the Export to Excel feature now display a frozen header row for convenient reference while scrolling. In addition, a new total row sums numeric columns.
New Drag-and-Drop Capability – The following screens now have drag-and-drop capability to easily reorder or move data fields.

Customize Asset List (Depreciation)
Batch Reports (Depreciation)
Inventory Helper (Tracking)
Global Task Manager (Premier Depreciation)

Simplified Calculation on Disposals for Depreciation This Run (DTR) – Whether disposals are entered before or after running depreciation for the current period, the correct DTR is calculated. This saves time by hot having to recalculate depreciation for disposed assets.
Browse for Folder (BFF) Enhancement – You can now quickly find the folder you are looking for with the updated BFF window. Browse now opens to the specified location and allows typing or pasting to find the preferred path.
Bug and Defect Fixes – As with most software updates, Sage Fixed Assets 2022.0 includes a few fixes. These fixes affect the Premier, Network and Standard editions of Sage Fixed Assets Depreciation and/or Tracking.
Known Issues
Sage Fixed Assets 2018.1 through 2022.0 use SAP Crystal Reports runtime SP21. This may cause an issue with older Crystal Reports runtime versions used by other products.
You may experience a compatibility issue after upgrading to Sage Fixed Assets 2021.0 if you are also using Sage 100 (2017 and earlier), Sage 300 (2018.x and earlier), Sage 300 CRE (v18.1 and earlier), or Sage 500 (2018 and earlier).
If you are unable to run reports in Sage Fixed Assets 2022.0, review Sage Knowledgebase article 89033 to resolve the issue.
Got Questions? Need Help?
If you're using Sage Fixed Assets with a Sage Business Care plan or using Sage Fixed Assets Subscription version, you can upgrade to Sage Fixed Assets 2022.0. Before you do so, be sure to contact Paragon's fixed asset experts to ensure that this update is compatible with any customizations, integrated applications, and other configuration options.
Want additional Sage Fixed Assets training – whether a refresher or for new users – or need some one-time help with your product? Contact Paragon today and get the help you need to maximize your investment in Sage Fixed Assets.
(Source: Sage)